SAN FRANCISCO, SAN DIEGO (below)
Death-row political prisoner blocked from attending hearing as 2,000 people rally to free him

PHILADELPHIA
In yet another blatant violation of his constitutional rights, state and local officials conspired to prevent Mumia Abu-Jamal from attending an important Aug. 17 court hearing on his case. But they couldn't stop Abu-Jamal's supporters from holding a militant rally outside the courthouse and marching through Philadelphia's busy streets, tying up Friday afternoon traffic.
At least 2,000 people took the day off from work or school to demonstrate their solidarity with the revolutionary journalist and former Black Panther. They came from Philadelphia, throughout the United States, and from Canada, France, Sweden, Spain and other countries.
Together they roared again and again, "Brick by brick, wall by wall, we're gonna free Mumia Abu-Jamal!"
Lt. Fischer, a police official at the rally, admitted, "There are many more people than we expected." The rabidly anti-Abu-Jamal Philadelphia Daily News was forced to report the next day, "The largest local 'Free Mumia' demonstration in years roamed across Center City for six traffic-choking hours."
Actions were also held in dozens of cities and towns worldwide. These included San Francisco; San Diego; Minneapolis; Paris; Berlin and Hamburg, Germany; and Oslo, Norway.
"We're on his side, and we're not going away," protester Kim Huole said. "We're not going to give up until he's a free man."
Abu-Jamal has spent over 19 years on death row. He was accused of the Dec. 9, 1981, killing of white Philadelphia cop Daniel Faulkner. He has always maintained his innocence.
Recently it came to light that a man named Arnold Beverly had confessed to killing Faulkner. Beverly says he was hired by a group of police with mob ties. Abu-Jamal's previous legal team knew about the confession but didn't raise it in earlier court documents.
Beverly's confession points to Faulkner's death being the result of an internecine war within the notoriously corrupt Philadelphia Police Department. Abu-Jamal—hated by the cops for his vocal opposition to racist police terror—made a convenient scapegoat.
The court hearing here was aimed at getting Beverly's confession entered into evidence in the Pennsylvania state courts. For two years Abu-Jamal and his supporters have waited in vain for a promised hearing before federal appeals court Judge William Yohn.
Overcrowding? Police jailed activists
On Aug. 15, Abu-Jamal's lawyers went into the Common Pleas State Court to request a "contempt of court" order against court administrator Joseph J. DiPrimio and prison officials.
DiPrimio had issued the order barring Abu-Jamal from being brought to Philadelphia for the hearing. He claimed that city jails were too crowded to house Abu-Jamal.
Abu-Jamal's supporters scoffed at this excuse. The supposed overcrowding didn't stop police from arresting and jailing four activists and several bystanders outside the American Corrections Association conference a day before the hearing.
Judge Pamela Dembe presided over the Aug. 17 hearing. Dembe had originally ordered Abu-Jamal to be present, but she refused to hold DiPrimio in contempt or uphold Abu-Jamal's right to be in court.
"Once again, through no fault of my own, I have been obstructed from being in the courtroom," Abu-Jamal wrote in a statement read to the court by attorney Marlene Kamish. Abu-Jamal also recalled how Judge Albert Sabo had barred him from over half of the 1982 trial that ended in his death sentence.
Though barred from attending the hearing, Abu-Jamal had strong representation in court, including Kamish, Elliot Grossman and other members of his new legal team.
Before 9 a.m., several prominent supporters and organizers entered the courtroom. They included the Rev. Jesse Jackson, actor Ossie Davis, comedian Dick Gregory; poet Sonia Sanchez, the Rev. Lucius Walker of IFCO/Pastors for Peace, Pam Africa of International Concerned Family & Friends of Mumia Abu-Jamal, and Monica Moorehead and Larry Holmes of the International Action Center/Millions for Mumia.
Inside the courtroom
Afterward, Workers World spoke with Monica Moorehead about the scene inside.
She said the courtroom was divided into three main areas -- one for Abu-Jamal's supporters, another for police supporters, and another for the media. The court session lasted 35 minutes.
"Judge Dembe raised the question of whether her court had jurisdiction to hold oral arguments on the issue of a legal brief Mumia's lawyers filed on May 4," Moorehead explained. "That brief argued that Mumia was a victim of 'ineffective counsel' during his Post Conviction Relief Act Hearing in 1996. Dembe stated that the legal brief had been filed 'in an untimely fashion' according to the Pennsylvania state law."
Abu-Jamal's lawyers argued that Dembe should set a date for oral arguments immediately. Dembe denied this request.
Instead she gave Abu-Jamal's lawyers until Sept. 7 to file a new legal petition explaining why the statute of limitations should not be a determining factor in setting a new PCRA hearing.
Prosecutors would then have until Sept. 21 to respond. Dembe said she would make her decision some time after both petitions were filed.
Moorehead told WW: "Dembe made her ruling based on what is on the books, rather than what is the righteous thing to do. Instead of looking at the strong factual evidence within the 300-page legal brief that Mumia's lawyers filed with her court on May 4, she is saying that because the brief was not filed within a 60-day time limit, it could very well be dismissed by her court.
"In essence, her ruling is very similar to the July 19 ruling that Federal District Judge William Yohn made, based on the statute of limitations in the Anti-Terrorism and Effective Death Penalty Act of 1996. In other words, the innocence of a person takes a back seat to procedural guidelines. Where is the justice in that?"

'Now it's up to you'
A spirited rally was held outside while protesters awaited word from the courtroom.
Representatives of Native nations, the Palestinian uprising, South Korean students on a hunger strike outside the White House, and supporters of the Puerto Rican political prisoners and prisoners of war expressed their solidarity and gratitude for Abu-Jamal's courageous stands on their behalf.
Signs and banners identified diverse groups of supporters, including the Black Radical Congress of Durham/Chapel Hill, Rainbow Flags for Mumia, the Postal Workers Union, Vieques Support Campaign, Mothers Against Police Terror, New York Quakers and the Toronto Free Mumia Coalition, among many others.
"Free Mumia —End the racist death penalty," read hundreds of International Action Center signs carried in the protest. Palestinian flags and Black liberation flags flew above the crowd, as did those of many Caribbean and Latin American countries.
People shouted, "Take it down" at building contractors who hung racist banners from the scaffolding on City Hall and other buildings. As one racist goon made lewd gestures from the top of City Hall, demonstrators shouted: "Jump! Jump!"
"Whenever young people participate in something like this, adults often say, 'You don't know what you're talking about,'" said student Josh Block from North Philadelphia. "But we do. Mumia is an inspiration. Even though he's in jail, he talks about the real issues that affect us all."
After the hearing, Abu-Jamal's attorney's read his statement to the crowd. They said Judge Dembe had seemed to side with the prosecutor's argument that it was "too late" to enter evidence that would show his innocence.
"We have done as much as we as lawyers can do," Grossman told the crowd. "Now it's up to you to make sure we get the hearing.
"They don't want us to take Arnold Beverly's statement in court, because they know the police did it," Grossman said, referring to Faulkner's killing. "They are protecting the police who are responsible."
Ramona Africa of MOVE told the crowd: "Slavery, apartheid, the holocaust and the murder of Shaka Sankofa were all 'legal.' But they weren't right.
"We don't care about legal niceties -- we care about justice."
The Rev. Jesse Jackson reminded demonstrators about recent death-row victims Sankofa and Wanda Jean Allen. "Too many innocent people have been executed. Too many innocent people are in jail, and too many guilty people are in high places," he said.
He called on local officials, churches and synagogues to take up Abu-Jamal's cause, saying: "Justice starts at home. Until Mumia is free, none of us are free.
"Until Mumia is free, we are only released."

Africa denounces Yohn's 'stonewalling'
At around 11:30 a.m., Abu-Jamal's supporters took to the streets.
A truck covered with Free Mumia signs served as a mobile sound stage as youths led militant chants. Pam Africa periodically stopped the truck and held impromptu street meetings, drawing large crowds of workers and shoppers to listen to the latest developments in Abu-Jamal's case.
All along the way, motorists responded enthusiastically to the many signs that read "Honk for Mumia."
Marchers reached the federal court building at 1:30 p.m. There, Africa responded to what she called federal Judge Yohn's "stonewalling."
"We will fight, fight, fight for the life of Mumia Abu-Jamal by any means necessary," she said.
"We are here to put you on notice. We are going back to our hometowns to mobilize like we have never mobilized before," Africa said, drawing cheers and shouts of "Yes!"
"In Seattle and Quebec, they beat some people and locked some up. In Genoa and Palestine, they killed people, they beat people, they locked up more people.
"But they couldn't stop the people."
Attorney Michael Tarif Warren said the movement must learn a lesson from Yohn's delaying tactics, which are aimed at robbing momentum from pro-Abu-Jamal forces.
"We must never go to sleep again because of developments in the courts," he said. "We must be in the streets. We must stay in the streets."
He also denounced Yohn's "unprecedented interference" in that day's state court hearing. Warren said the federal judge had "recommended statutes and language for the state courts to deny [Abu-Jamal] a Post-Conviction Relief Hearing."
Re-energize the movement
The day's main message was the need to re-energize the Free Mumia movement.
"We had a victory here today," declared Larry Holmes of the IAC. "We kicked open the door of the court.
"It wasn't just the lawyers who kicked down the door," he told the demonstrators. "It was you. You represent the millions of sisters and brothers who support Mumia but couldn't be here today."
Saying the government fears an "Intifada for Mumia," Holmes urged the crowd to "go home, call a meeting and say, what are going to do to turn up the heat?
"Mumia has instructed us to join with the anti-globalization movement. We're going to take Mumia's struggle to Washington Sept. 29 as part of the convergence against the International Monetary Fund, the World Bank and George W. Bush," Holmes said.
Holmes said activists should be ready to return to Philadelphia on short notice. He also recommended that groups organize activities on or around the 30th anniversary of the Attica Prison Rebellion on Sept. 13, and begin planning now for mass actions on Dec. 9. That is the 20th anniversary of the incident that put Abu-Jamal on death row.
"The courts are more concerned with covering up police misconduct than freeing an innocent person such as Mumia," Monica Moorehead told WW. "That's the real reason why the courts and the police do not want to grant Mumia a PCRA hearing.
"This confirms what we have known all along: Mumia will not be freed by this corrupt, racist, biased legal and political system, but by the militant intervention of the masses."
— Greg Butterfield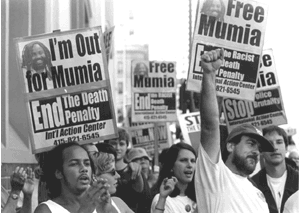 SAN FRANCISCO, SAN DIEGO.
Hundreds stand up
for Mumia
On Aug. 18, over 500 supporters of Mumia held a rally at the busy intersection of Powell
and Market streets and then marched around Union Square. The demonstrators then decided
to continue the protest by marching on the San Francisco Chronicle to demand that the
virtual wall of silence in the big business media concerning Mumia�s case be ended.
The demonstration was organized by the Mobilization to Free Mumia and the International
Action Center. In San Diego the day before, about 100 people with signs, banners,
and bullhorns gathered on the four corners of a busy downtown intersection to stand
in solidarity with Mumia.

Story & photo�Bill Hackwell www.actionsf.org
San Diego: Show support for the Mumia Coalition. We meet every week on Tuesday at 5 pm at San Diego City College in Room D105. Join us this week and every week!
For more information, call 619-692-4496
International Action Center
39 West 14th Street, Room 206
New York, NY 10011 email:
[email protected] web: http://www.iacenter.org
phone: 212 633-6646
fax: 212 633-2889
Send replies to [email protected]
This is the IAC Mumia activists announcement list.
Anyone can subscribe by sending any message to
[email protected]